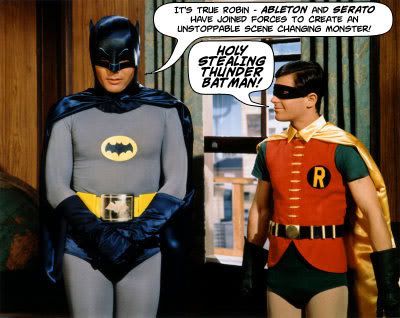 So I suppose that it is time for me to start posting... I stumbled across a bit of information, possibly old news, but who cares.
Just as the DJ world created embarrassing damp patches with the aforementioned Traktor evolution, two behemoths of the DJ scene have confirmed speculation that something was afoot. As sure as death and taxes, Serato have announced that they're hanging out with Ableton - just one day after day that NI made their own huge announcement. Everybody sing along... "Ableton and Serato sitting in a tree..."
Here's the official verbiage. It doesn't say very much so don't be asking how much, when or if you can upgrade from either respective Live package because nobody knows:
Live² - Serato and Ableton announce creative partnership.

Auckland, New Zealand, ( October 17, 2008 )

DJs, remixers and producers on the forefront of technology, watch out.

Serato and Ableton are happy to announce a partnership, which will pave the way for the future of Digital DJing. With shared artist rosters from hip-hop (DJ Jazzy Jeff, DJ Nu-Mark, A-Trak) to electronica (Paul Van Dyk, DJ Sasha), both Ableton Live and Serato Scratch Live are renowned as the premier performance platforms in clubs around the globe.

While Serato's Scratch Live excels in vinyl emulation, music library control and lightning quick hands-on scratching, Ableton Live provides the tools for production, on-the-fly remixing and beat creation.

"Ableton and Serato take different approaches to modern musical performance," says Ableton CEO Gerhard Behles, "But both companies live by the philosophy that software should be straightforward, easy to use, and most importantly, reliable and stable onstage and in the studio. Ableton has never had an answer for the DJ who wants vinyl control, and rather than try to emulate what Serato do so well, we simply make sure that our products work well together."

Serato Audio Research CEO Steve West agrees. "After years of talking together, we're thrilled to be working with Ableton. It's exciting to think about what we can offer to DJs and producers: the ability to go beyond just spinning records and add a personal stamp to the music they play."

Just where this Serato and Ableton collaboration will take us has yet to be seen but one thing is clear: the worlds of DJing, remixing and production for artists worldwide have changes ahead.

www.serato.com
www.ableton.com
While it's generally acknowledged that SSL owns the DVS market, they've been left behind a tad with Traktor and its evolving Scratch product and most definitely in th ewake of yesterday's Traktor Pro announcement. And while every MIDI controller aims to work primarily with Traktor rather than SSL, it also has the edge in other areas like effects. Now it would be easy stomp around Auckland wishing you could do all the things Traktor does, but putting that into practice isn't so simple. So what if you hooked up with the guys who are doing all that stuff and then some and owning that end of the scene?
So from one side, we've got Ableton Live's dominance in the production market and the other is Scratch Live's dominance of the DVS market. So in the middle should be the one true DJ app to rule them all. In theory anyway. Time will tell if it's an all new app or simply making the products work seamlessly.
More info is due from both companies in the next few days. But you can be sure that I'll be giving chinese burns, wedgies and nipple tweaks to the Serato guys at BPM until they fess up more info.
But I'd be keeping an eye out for something at NAMM.